Medical Dr & Health Advocate
The current state of the state hospitals in Africa is a cause for concern. This is the sad reality in a majority of African Countries! Health should be a country's FIRST PRIORITY! Patients are being sent home without crucial medications such as beclotide inhalers (for asthma), antiretroviral medication, (for HIV), methyldopa (for hypertension) and the list goes on and on.
I have started the process of advocating for our public hospitals with the Ministry of Health and Social Services in three African Countries within Southern Africa, however this is not an easy process. My initiative, The One Step at a Time initiative, is a space holder. The initiative is not a permanent solution however it gives patients a chance of survival while we advocate and fight for the public health sector to become a priority!
Ultimately, the aim is to expand to asssist all state hospitals and health facilities in Namibia such as soon as the initiatives funds allow for expansion. The more people that are therefore able to subscribe, the more we can help people who are in need.
1Step_At_A_Time is an initiative that assists with financing medication at State hospitals that is out of stock but is needed for the health or survival of patients. The Initiative operates on a subscription basis.
Subscribers set up a monthly voluntary stop order of a minimum of 5 Namibian dollars into our official account which keeps the account running and supplies the funds for the medication.
In order to ensure transparency, Dr Esperance Luvindao and Dr Iyaloo Shiimi (Board Member) are the two signatories for the account. For this account, we resolved that two signatories must sign for any transaction to be approved.
The purpose of this initiative is to ensure that patients in State hospitals in Namibia and eventually across Southern Africa have access to all necessary medication in a timely fashion irrespective of their employment status or social class. The long term vision is to ultimately be able to assist patients with more costly medical needs such as VP Shunts etc. once the initiative has developed.
Through this initiative we have helped thousands of Namibian to date living in extreme poverty. I am proud of the initiative and the growth I have seen. This initiative has proven that Africans have within them the power to impact change! We are the change makers of this generation and it is up to us to not only speak out and advocate for better, but to come up with ways to ensure that while we are advocating for better, we are also saving lives! Health is the right of every human being, irrespective of socioeconomic status. Nommater where i am from, I desereve a clean bed, the correct medications and adequate facilities when i am sick.
To donate to the 1 step At A Time Initiative please use the following bank account details:
Banking details: Standard Bank
Branch: Ondangwa
Account Number: 60004406361
Account Name: 1 Step At A Time
Reference: 1 Step At A Time
Please forward us the proof of payment via email (info@esperanceluvindao.com) so that we can thank you properly and add you to our subscribers list.
Thank you for saving lives with us!
Breast Cancer Awareness Month 2021
"It is breast cancer awareness month. Do your self breast exam monthly. Find out from your parents if any of your close relatives had breast cancer. If they had breast cancer, make sure that 10  years before the age at which they had the cancer, you get a full examination done at your Dr. My condolences to all those that have lost a loved one to breast cancer."
One tweet reached over 2000 000 people across Namibia, South Africa, Nigeria, Kenya and the United States and provoked thousands to see their doctors urgently. This goes to show that women are need of health education that teaches them about various diseases affecting women in order for them to take control of their own health.
What is breast cancer? Who gets breast cancer? What if I don't know my family history and have no living relatives? What are the signs of breast cancer to look out for? These and other questions will be summarized within this article in a simple yet concise manner.
Breast cancer is disease affecting millions of women worldwide. The disease is caused by an uncontrolled multiplication of cells in the breast. Breast cancers may originate in various parts of the breast. The lobules, ducts and connective tissues form the main parts of the breast and it is important to note that a majority of breast cancers originate in the ducts and the lobules which are responsible for carrying milk to the nipples and making milk respectively. Breast cancers can spread and this is important to remember as it is the reason there are various stages of cancer. Stage 1 and Stage 4 of breast cancer differ because the cancer has spread further in stage 4 to other parts of the body.
There are various kinds of breast cancers, but the most common are invasive ductal carcinoma and invasive lobular carcinomas. These cancers differ in their point of origin. As their names suggest, the invasive ductal carcinoma originates from the ducts and the invasive lobular carcinoma originates from the breast lobules. These are not the only breast cancers.
A young woman has the responsibility to be aware that breast cancer exists and to watch out for the signs and symptoms that may prompt investigation and lead to early diagnosis and management.
If you are a woman your chances of getting breast cancer are automatically higher than that of men. Other risk factors include; elderly women, if you started your periods early (before 12 years old) or started menopause later than 55 years old, your chances are higher because you have been exposed to hormones for longer, and a family history of breast cancer. If you have a first degree relative that had cancer, you are more likely to develop a cancer. A first degree relative is a mother, sister or daughter. The risks of cancer are increased even when the patient has a first degree relative that had ovarian cancer and not necessarily breast cancer. In addition, if you have a personal history of cancer, or a history of radiation therapy, you are more at risk of developing breast cancer. These are some of the risk factors for breast cancer and not an exhaustive list.
Women need to get used to checking their breasts regularly. I tend to advise women to check their breast every day with emphasis on the time after their periods. It is possible check your breasts daily. Research has shown that women should check their breasts once a month and this is the current acceptable and recommended standard of self-care. A self-breast examination involves checking ones breasts in the mirror to observe for any obvious abnormalities in the size, skin colour and nipple discharge as well as feeling the breast for any masses or pain upon touching.
If you do not have any living relatives or don't know where your family are, your doctor may advise you to do a BRCA test in order to determine whether you have the mutation for the gene that causes breast cancer.
Visit your doctor and ask for a baseline full examination with a focus on your breasts. He/she will take a full history including family history, examine both your breasts and determine whether you need further investigations for your age and history or direct you on when to come back for a follow up exam.
RAPHA; Free Online Medical Consultations
Rapha is a Medical brand. Currently, we offer free online medical advice that we initiated in 2019. We
work Mondays to Thursdays with a total of 10 GPS and specialists working tirelessly for our patients.
Having assisted over 44 000 patients to date, we continue to care for the community using our skills but
at no cost. The free Online consultations are one of numerous health services offered under Rapha. Rapha
is the Hebrew word for healing. This means that anyone, anywhere in the world can access free medical
advice from Mondays to Thursdays AT NO COST!
The concept was birthed after discovering that the gap between those that can afford medical aid and
those that can't is large. I've been able to witness the inequalities between the higher and lower social
economic classes. Often times, patients wait for up to 10 hours just to be seen by a doctor. This is
sometimes after traveling over 50 km just to see a doctor. The inequalities between the higher and lower
socioeconomic classes are visible in numerous areas. I have delivered a 13 year old girl's baby and she
would tell me that she has never heard about contraceptives before. When we initiated the Oshikoto
region's first ever IUCD campaign and young women told me that they had never had the opportunity to
learn about contraceptives, and where patients told me that they were never told why they take high
blood pressure or diabetes tablets , we realized that the gap was insurmountable. I started online
consultations as a way to offer free quality Healthcare services to people that cannot afford it from the
comfort of their homes. Parents were losing babies because of the Ambulance to patient time. When an
ambulance was called for a baby that is severely dehydrated, they would take over 10 hours to reach the
village, and often times it was too late. The free online consultations started and soon, my patients were
not just people that had access to the internet, but the ones that had access to the internet would use
our services as a call centre. They would call and tell us that their little niece in the village is not eating , is
lethargic and has dry lips and we would instruct them on how to prepare emergency ORS with warm
water, sugar and salt to save the baby while they rush her to the hospital. Someone would call and inform
us that they their grandmother who has diabetes took her insulin that morning and now is unconscious
on the floor and we would offer a list if questions to assess what her state was, commonly, the patient
had an insulin overdose and was in hypoglycemia and we would then direct them on the emergency
therapy to institute.
Within the next 6 months, the goal is to expand. With over 44 000 patients on our list from
countries like Nigeria, South Africa, Zimbabwe, Rwanda and Zambia, we must ensure that we are
able to cater to all our clients in a timely manner. Moving from a purely social media based
platform to creating a website where patients can access free online services would see improved
quality of service for all. This does not mean doing away with the social media platform as this is
what makes the services easily accessible particularly for the youth. The official website will be
an addition to the social media platform and whatsapp services where people from all across the
world can access the services with or without having access to my social media platform.
Within the next 6 months, the aim is to expand to include a wider variety of specialists that can
offer their services in addition to those we already offer. We are currently in need of a neurologist,
cardiovascular surgeon and pulmonologist to join the team and have already reached out to the
relevant specialists. 
Clients can reach us through our whatsapp line +264818804572 for free medical consultations from Mondays to Thursdays!
Luvindao Bags Common Wealth Humanitarian Award by the Queen!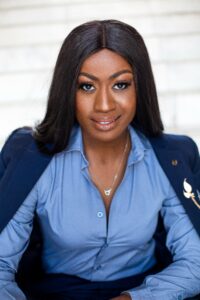 Charles Moore, British High Commissioner to Namibia, said:
"Dr Esperance Luvindao is an outstanding individual whose passion for delivering healthcare to the poorest communities in Namibia, both physically and remotely, is truly inspirational. She epitomises the Commonwealth Points of Light in every way, with her selfless and energetic activities literally saving thousands of lives. The COVID-19 pandemic has underlined the importance of every individual having access to basic healthcare services, regardless of their socio-economic status, but many are still unable to access healthcare services and information, either because of a lack of technology or, more often, due to physical distance from their nearest clinic. By closing this gap, Dr Luvindao has contributed significantly to the availability of healthcare for the poorest and most remote communities in Namibia, with free online consultations providing a new and innovative method of delivering care and advice. This is proving most effective in the areas of sexual and reproductive health, infant and paediatric care, and reducing the spread of misinformation about COVID-19 and vaccinations – all critical issues for the communities supported by Dr Luvindao and her team. Her story is one of compassion, empathy and inspiration, and she truly deserves the accolade awarded to her as a Commonwealth Points of Light."
Esperance started offering the sessions after working in Northern Namibia following medical school and noticing the difficulties that underprivileged citizens experienced accessing healthcare, with many patients having to travel long distances of over 50km and waiting up to 10 hours to see a doctor. She also started the '1 Step at A Time' initiative which has helped over 35,000 Namibians by purchasing crucial medication and medical equipment for village health practices, and has played a key role in supporting the country's vaccine campaign in response to the Coronavirus pandemic.
Esperance said:
"I am still trying to process this award. I'm still in awe. Hearing the news that I had won the award was a cherished but emotional moment. It has been years of hard work, sleepless nights and a lot of mental exhaustion.
"I am beyond thrilled and we are honoured to accept the award! Like I always say, we do not do the work in order to be awarded but to be awarded for doing the work we love is a different kind of blessing. We are immensely grateful. When I say we, I mean my entire team and everyone that has been involved in my journey as a Healthcare advocate and humanitarian. The doctors that went before me and took the time to teach me what it means to be a good doctor, my mentor, my family and friends but most importantly, God. I'm excited for what the future holds for me and the millions of lives we are yet to save."
"The combination of passion and actual qualifications in the field of your passion will allow you to do what no person has ever fathomed" EL